MONTENEGRIN CHIEFTAINS
SERB PATRIOTS
Overall Assembly of Montenegrins (Opste crnogorski zbor) and Assembly of the Chieftains (Zbor glavara) were clans' institutions, convoked from time to time to solve questions of common interest. They made decisions about war and peace, chose prince-bishops (vladikas) and permanent chiefs (guvernadurs, serdars, vojvodas) and later even brought the laws. Overall Assembly of Montenegrins was convoked until 1852, and Assembly of the Chieftains until 1879.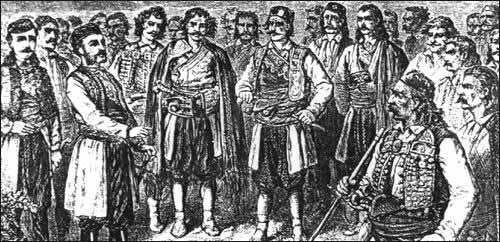 Assembly of the Chieftains in Cetinje, Montenegrin capital
Montenegrin Chieftains write to Russian Emperor, Peter the Great, on 21 October 1711, WE ALL ABOVE MENTIONED CLANS AND CHIEFS UNDERSTOOD EVERYTHING AND BOWED OUR HEADS TO YOUR EMPEROR. WE ACCEPTED YOUR REPRESENTATIVE, MIHAILO MILORADOVIC, AS OUR COMMANDER AND COLONEL. WITH HAPPINESS WE ACCEPTED HIM, FINE AND BRAVE, GOOD IN BATTLE, AS LIKE AS HIS ANCESTORS HAD BEEN CHOSEN IN THE TIME OF OUR VENERABLE AND HOLY DECEASED SERB EMPERORS.
In September 1742, the Chieftains of Montenegro and Highlands write to Russian Empress and express themselves in the letter WE ARE OF THE GREEK ORTHODOX FAITH, SONS OF THE EASTERN CHURCH WHO LIVE IN THE SERB LANDS - SKENDERIJA, MONTENEGRO AND THE SEACOAST.
In the letter of Montenegrin Chieftains to Head of Little Russia, in 1752, it is said WE LIVE IN THE DISTANT SERB LANDS, IN THE REGION OF MONTENEGRO.
In the letter to Superior of Kotor, Justinian Bert, on 24 October 1756, Montenegrin Chieftains say WE ARE OF THE ORTHODOX CHRISTIAN FAITH AND LAW OF THE EASTERN CHURCH, OF THE HONORABLE AND GLORIOUS SLAV-SERB KIN.
In June 1789, Montenegrin Chieftains, in the name of THE ENTIRE SERB MONTENEGRIN COMMUNITY, write to Russian Empress Katarina II and say WE SERBS MONTENEGRINS HOPE THAT WE SHALL NOT BE LEFT WITHOUT HELP and add IF WE COULD HAVE ORGANIZATION AND MUNITION, WE WOULD LIBERATE OUR GLORIOUS SERB LANDS ENTIRELY FROM THE BARBARIAN YOKE, TOGETHER WITH OUR ARMED SERB BROTHERS WHO AIM TO ATTACK THIS ENEMY FROM THE ALL SIDES.
Montenegrin Chieftains write to Senate of Venice, in 1792, THANK GOD, WE ARE OF THE GREEK ORTHODOX FAITH AND LAW, OF THE SERB GLORIOUS HEROISM AND LANGUAGE.