Clans
Jovan Cvijic, the greatest Serb ethnologist and geographer, has divided Serb clans, within the borders of Montenegro, into two groups: the clans of Old Montenegro and the clans of Raska. The first group are the clans settled in old, historical Montenegro. The Old Montenegro is divided into four regions called nahija. The second group are the clans of Highlands and Herzegovina, the territories of today's Montenegro, which were mainly the parts of Serb medieval state of Raska.
The Clans of Old Montenegro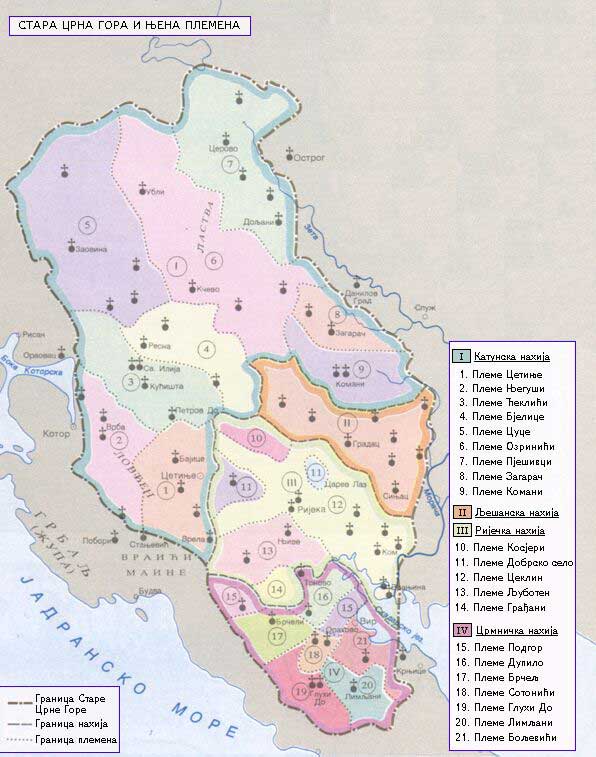 As it is said, Old Montenegro is divided into four regions (nahija): Katunska (I), Ljesanska (II), Rijecka (III) and Crmnicka (IV). Each of them is settled by clans:
Katunska nahija has nine clans: Cetinje (1), Njegusi (2), Ceklici (3), Bjelice (4), Cuce (5), Ozrinici (6), Pjesivci (7), Zagarac (8) and Komani (9);
Ljesanska nahija, in the incomplete creation of clans has three "clans": Drazevina, Gradac and Buronje;
Rijecka nahija has five clans: Kosijeri (10), Dobrsko selo (11), Ceklin (12), Ljubotinj (13) and Gradjani (14);
Crmnicka nahija can be divided into: Podgor (15), Dupilo (16), Brceli (17), Sotonici (18), Gluhi Do (19), Limljani (20) and Boljevici (21).
The Clans of Highlands and Herzegovina
The clans of "seven Hills", or Highlands, are: Bjelopavlici, Piperi, Bratonozici, Kuci, Rovca, Moraca and Vasojevici
The clans of Herzegovina are spreading on territories of Montenegro and Republic of Srpska. There is no reason for not listing them together: Drobnjaci (with Jezera), Uskoci, Piva, Saranci, Niksici, Banjani, Grahovo, Krivosije, Trebjesani, Bileca, Gacko, Ljubibratici, Zupci, Rudinjani, Prijedojevici and Malesevci.
The Clans of Seashore
The Serb pride of the Seashore are: Grbalj and Pastrovici with Brajici, Maine and Pobori.