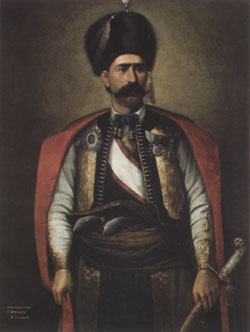 Grand Duke Mirko Petrovic Njegos (1820-1867),
older brother of Prince Danilo and father
of King Nikola, was a soldier, diplomat
and poet. His epic corpus Heroic Monument,
published in Montenegrin capital Cetinje
in 1864, glorifies Serbdom and witnesses
about great victories of Montenegrins over Turks.
In Memory of My Father
by Montenegrin King Nikola I Petrovic Njegos
During the days of my reign
In stolen hours these verses
Were gearned that I now to
My father's memory dedicate.
For it was he who first taught me
To distinguish "a" from "b";
All I know and all I have
Is by the making of his hand!
With tears in his eyes he would relate
Stories of what once had been,
Binding me by oath to serve
With my full heart dear Serbdom.
He charged me with the holy task
Uncompromising to remain;
To sacrifice all for my kind,
Never to know fear.
"Be a hero and heroes shall
Forever stride by your side;
Should you perish, nymphs will weave
Wreaths upon a hero's grave.
"Life's too short at any rate
Fooling us with precious naught;
Honor, virtue and hard work
Make the world better for us."
Thus my dear father advised me
As he upon his deathbed lay,
As he and his soul departed far
From this world and from me.
O dearest blessed spirit rest
Easy in your sanct respite;
Forever shall I be imbued
With your will and dying wish!
(translated by Snezana Lazovic)