What's new | Serbian |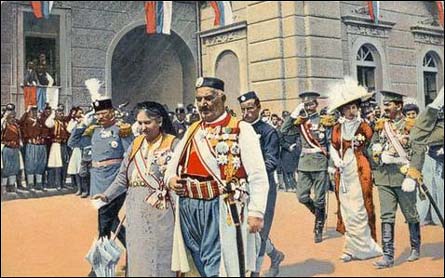 The Day of Proclamation of the Kingdom of Montenegro; Cetinje, August 28, 1910

THE MAGNUM OPUS OF SERB LITERATURE
THE SERB EMPIRE AND MONTENEGRO'S PRETENSION ON ITS HERITAGE
SERB PATRIOTISM OF SUPPORTERS OF THE DETHRONED DYNASTY PETROVIC NJEGOS
Prince Mirko Petrovic Njegos and his wife Natalija (b. Konstantinovic), relative of the Serbian dynasty of the Obrenovics, on postcard issued in Montenegro in 1902. Pair is framed with Serb tricolored ribbons, there are two Serb flags of Montenegro and Serbia, and Montenegrin and Serbian coat of arms' above which is the crown of the Petrovic Njegos dynasty. Historians maintain this postcard symbolized pretension of the Petrovic Njegos dynasty to the throne of Serbia.
Metropolitan of Pec Gavrilo (later Serb Patriarch) walks into the Serb Patriarchate of Pec in Metohija (acceded to Montenegro after The First Balkan War); December 5, 1913
Serb Patriarch Arsenije III Crnojevic (c. 1633-1706, born in Cetinje, Montenegro), from the brotherhood to which also belonged family that ruled Zeta (Montenegro) in the second half of XV century. First abbot of the Patriarchate of Pec monastery then Metropolitan of Pec and from 1672 Serb Patriarch. In 1689 he joined Austria's war against Turkey but after defeat, fearing Turkish reprisals, he was forced to move as many as 36,000 Serb families to Austrian-ruled Pannonia, north of Sava and Danube rivers. In 1690 Austrian Emperor issued him The Privilege in which Serbian Orthodox Church received autonomy and by it full privileged status of the Serbs in Austrian Empire.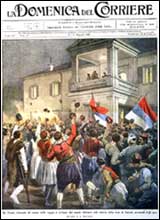 "By following carefully Serb Land of Montenegro web presentation, I was convinced that it has been preparing with extraordinary care and responsibility, its contributions being based on critically confirmed facts and scientific knowledge. It is my pleasure to recommend this presentation to everybody who cares for knowledge without ideological or any other prejudice. In the present time this is really a rare characteristic which is worthy of an honest recognition." - Slavenko Terzic, Ph.D., Director of Historical Institute of Serbian Academy of Sciences and Arts, December 2000
Serb Land of Montenegro is on the Internet with the blessing of His Eminence, Amfilohije, Orthodox Archbishop of Cetinje, Metropolitan of Montenegro and the Littoral, and the Exarchos of the Holy Serbian Patriarchal Throne of Pec.
Site founder and editor Aleksandar Rakovic from Belgrade is a historian. Historiographical website Serb Land of Montenegro represents his voluntary contribution to the truth about old ethnic identity of Montenegro.
Serb Land of Montenegro:
ISBN 86-905221-0-7
CIP – Catalogued in publication. National Library of Serbia. COBISS.SR-ID 114744844
[A. Rakovic, Belgrade 2004]
Copyright ©1999-2020 Njegos.org. Serb Land of Montenegro is for educational purposes only. Any copyright material used here is not used for commercial gain.
NJEGOS.ORG
REFERENCES
Reviewed by

In Select Bibliography of

History site chosen by


Njegos.org on CNN.com


Njegos.org on BBC News

McGraw-Hill about Njegos.org:
"fascinating website"

Njegos.org on E-Telegraph

Njegos.org on CBC/RC

Njegos.org on ANSA

Recommended by Serbian
edition of PC World

In centenary tribute to
The Merry Widow operetta


Njegos.org on Antiwar.com

Njegos.org on Lenta.Ru

Njegos.org on The Globalist


Njegos.org on RCS

Web choice of

Recommended by first
YU Internet Magazine